Hey there, Crazy4Fiction readers! Jan here, senior acquisitions editor at Tyndale House. Today I would love to share with you one of my favorite Christmas memories to keep up the Crazy4Fiction Christmas Cheer.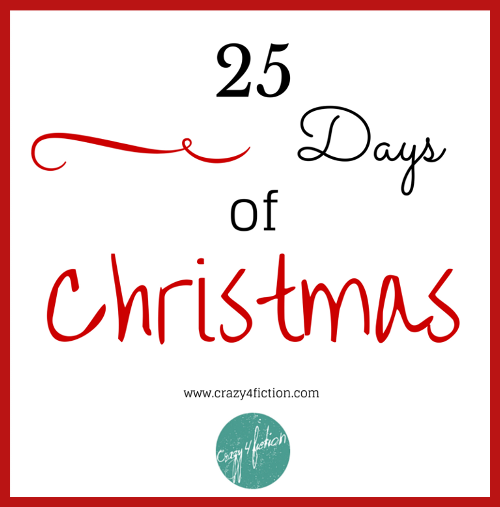 When I began thinking through the possibilities, many came to mind, from poignant moments with loved ones to the cheery unwrapping of gifts on Christmas morning. I decided on a memory that makes me laugh and smile fondly whenever I talk about it.
I come from a large family—four siblings, 22 nieces and nephews, and 32 great-nieces and -nephews. Every year, prior to the holidays, we try to gather this large, crazy crew together to celebrate Christmas. And every year someone is recruited to don the well-worn Santa suit and hand out gifts to the little ones.
Several years ago, it was my turn. I threw on that suit, shoved a pillow under the jacket, and took on the role of Santa. It was so sweet watching the children staring up at me in wonder. I loved seeing the expectation on the kids' faces as they received their gifts . . . except for five-year-old Caden. I noticed him eyeing me skeptically. After all the gifts were handed out, I changed into my street clothes and sneaked back into the room.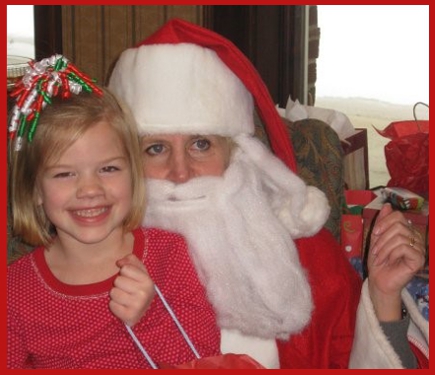 I turned the corner, and there was Caden, waiting to greet me with a confident, "I know you were Santa." I did my best to distract him and convince him otherwise, but he was quick to point out that Santa wore the same boots as I did—and the same jewelry (oops!).  When I pointed out that Santa had left through the front door, while I had just come from the kitchen, he scowled at me and said with disgust, "Why do you lie?!" and stormed off. I still chuckle when I remember the look on his face.
May your Christmas be filled with joy and wonder! And may we all remember that Jesus is the reason we celebrate the Christmas holiday. Don't be distracted by the impostors.
 ~*~
All families have their silly Christmas traditions, including the Robertsons. Below is a peek into some of their favorite holiday moments.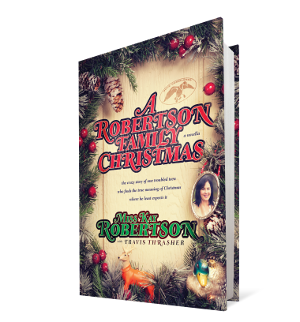 The Robertson Family's Favorite Christmas Memory
Miss Kay—About two months before Christmas, years ago, Phil and I were separated. Phil was a non-Christian at the time, but when we got back together as a family at Christmas, he had become a Christian.
Willie—Gangnam Style bit
Korie—Putting reindeer food on the roof and listening for Santa Claus when the kids were little
John Luke—Our family's Evolution of Dance for the talent show
Sadie—When our family did real-life Elf Yourself for the talent show
  ~*~
It's amazing the lasting memories that occur when you get the whole family together. Were you ever a Santa impostor like me?! Share your favorite Christmas moment in the comments!