Hey there, readers. Shaina here from the Crazy4Fiction team! I can barely believe we're only 25 days out from Christmas. This time of year always makes me think about past holiday memories and what I'm thankful for. I am especially grateful to our authors for sharing their beautiful stories and memories with us. In particular, I wanted to give you some behind-the-scenes glimpses from Miss Kay and the Robertson clan to celebrate their new novella, A Robertson Family Christmas. This month, on the blog and our Crazy4Fiction Facebook page, the Crazy4Fiction team will be sharing a few of our prized memories and Christmas favorites in addition to some fun thoughts from the Robertson family.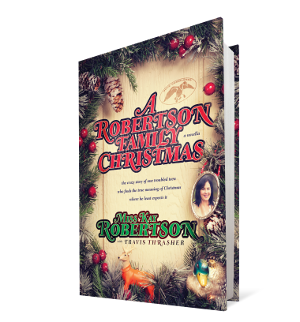 Today I want to talk about favorite holiday songs. Unfortunately, I am not musically gifted, but that doesn't stop me from getting caught up in holiday cheer when a great Christmas song starts to play. No matter where I am—at the mall, in the car to work, or in church—Christmas music has the power to take me back to special times and memories in my life. In particular, "Do You Hear What I Hear?" always transports me to past days of decorating the house for the holidays. Being the youngest in my family, it was always my honor to sit on my dad's shoulders to adorn the tree with the beautiful angel ornament we kept in layers and layers of Styrofoam peanuts the rest of the year. Just the first few lines of the melody always put a smile on my face as I think about my family's holiday traditions.
Now take a peek inside the Robertson household this holiday season!
The Robertson Family's Favorite Christmas Songs
Miss Kay—"Jingle Bell Rock" by Brenda Lee
Willie—"Jingle Bell Rock"
Korie—"Away in a Manger"
John Luke—"Christmas Cookies" and "Jingle Bells"
Sadie—"Ragin' Cajun Redneck Christmas" and "Silent Night"
 ~*~
What about you, dear reader? What song always brings you some festive holiday cheer and lets you take a trip down memory lane? Are any of the Robertsons' favorites yours as well? Share your thoughts in the comments below and visit us on Facebook this week to hear from the other Crazy4Fiction team members on their favorite holiday tunes!