Why the Tyndale House Foundation Supports Causes around the World
Why the Tyndale House Foundation Supports Causes around the World
Tyndale House Foundation was established by Kenneth and Margaret Taylor in 1963—a year after the initial publication of Living Letters, the New Testament Epistles paraphrased by Dr. Taylor. Though the Taylors had a large family (ten children) and lived on a modest income, Dr. Taylor had a strong conviction that the royalties from Living Letters should be given to God because it was His Word. He established Tyndale House Foundation to distribute these royalties. It was the fulfillment of a goal Dr. Taylor had first expressed a decade earlier – to establish a charitable fund that could make grants to support Christian work around the world.
The Foundation grew out of an underlying conviction that every person should have the opportunity to be confronted by the reality of the love of God as revealed in Jesus Christ. This conviction provides the impetus behind the Foundation's basic purpose: To minister to the spiritual needs of people, primarily through literature consistent with biblical principles.
To fulfill this basic purpose, the Foundation seeks to achieve two central and interrelated goals in all of the programs in which it involves itself. The Foundation aims to provide tools so that people around the world can hear and understand the message of God's love and His plan for reconciliation with humanity. It also aims to provide education and training in the creation and use of these tools.
One of the foundation's most recent projects was the Africa Leadership Study. Eight years ago, the Foundation began investing in a research project aimed at identifying key leaders and influencers throughout Africa whose work could be encouraged and enhanced by a financial partnership. The primary goal of the Africa Leadership Study was to help the foundation board take initiative in seeking funding opportunities and—perhaps more importantly—relationships with African leaders. Eight years later, after much effort, expense, and prayer, the project is substantively complete.
This will be a tremendous resource not only for Tyndale but for many other foundations and grant-making organizations with a special interest in Africa. The Foundation gives thanks to God for the work He is already doing in Africa and for allowing them to play a part through the Africa Leadership Study.
The foundation board is comprised of a mix of Taylor family members, THP employees, and missiology experts.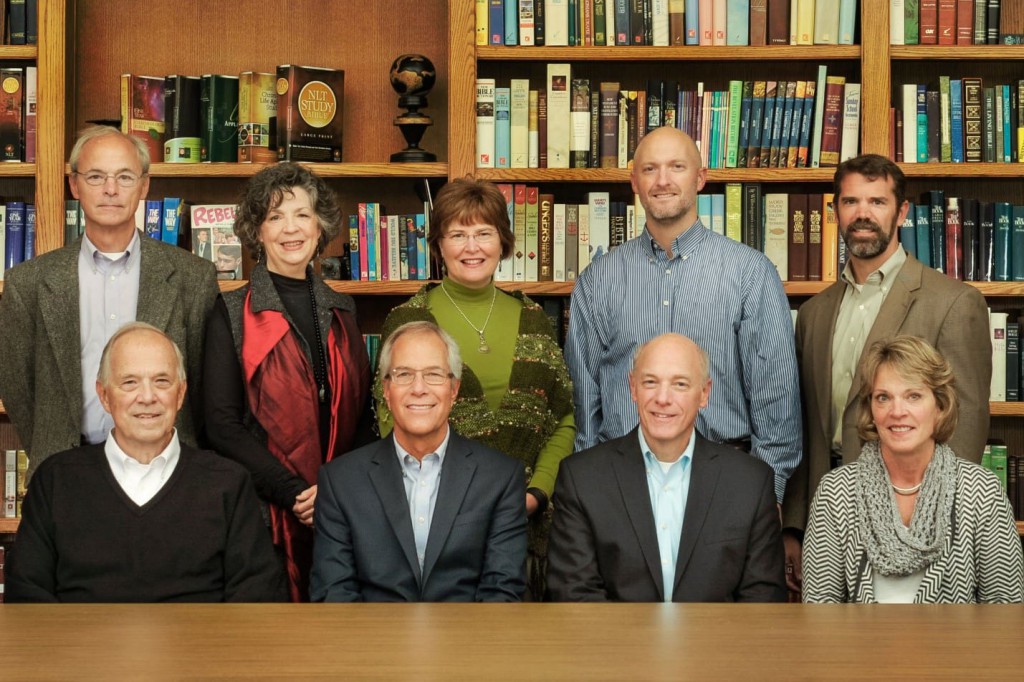 From top left:
Peter Taylor—Peter is the son of Ken and Margaret Taylor and has served on the THF board for fifteen years. He and his wife, Sharon, live in Elizabeth, Illinois.
Mary Kleine Yehling—Mary Kleine is the executive director and vice president of the foundation. She has worked with THF for nearly forty years and has played a major role in some of the foundation's key initiatives, including the Africa Leadership Study. She and her husband, Jim, live in Wheaton.
Becky Wilson—Becky is the assistant director of international recruitment at Wheaton College. Her husband, Bruce, was formerly the missions pastor at College Church and is now director of strategic initiatives at ECHO, an international agricultural ministry based in Ft. Myers, Florida. Bruce and Becky previously served with Pioneers in Indonesia for eleven years.
Jeremy Taylor—Jeremy joined the THF board in the fall of 2005. His work with the foundation has taken him to some very interesting places over the years, including Cambodia, Ukraine, Lebanon, Kenya, and Nigeria. Recently he began a master of intercultural studies program at Fuller Theological Seminary to help equip him to be more effective in representing the foundation and thinking missiologically.
Evan Hunter—The newest member of the board, Evan is vice president of ScholarLeaders International, an organization that helps encourage and enable Christian theological leaders around the world. Evan and his wife, Becky, live in Deerfield, Illinois.
Ed Elliott—Ed is founder and former president of Oasis International, an organization that equips international Christian publishers with a focus on English-speaking Africa. For several years, Oasis's primary focus has been the development of the Africa Study Bible, a new resource using the NLT text with study notes written by Africans from every nation on the continent. THF gave significant support for the development of this Bible for Africans by Africans. The English version goes to print in early November.
Doug McConnell—Doug has been the chairman of the THF board for nearly two decades. Formerly the provost of Fuller Theological Seminary in Pasadena California, Doug now lives in Florida. He and his wife, Jana, previously served in Papua New Guinea for fifteen years.
Mark Taylor—In addition to his duties as chairman and CEO of Tyndale House Publishers, Mark also serves as president and CEO of the foundation, a role he has held since 2004. Mark provides leadership and vision to the board, carrying on the legacy of Ken Taylor.
Sarah Bradley—Sarah, in her second year as a THF board member, is affiliated with numerous organizations that Tyndale supports, including Outreach Community Ministries and Missionary Furlough Homes. She and her husband, Mark, live in Wheaton.
Paul Mathews (not pictured)—Since Paul is a member of the corporate board, he is not officially a THF director, but he functions as a board member, attending all meetings and contributing to the foundation's strategic work around the work. Paul has served on multiple boards, including Greater Europe Mission.