May 30, 2016
Tyndale Travels to Haiti for Its Annual Mission Trip
Tyndale Travels to Haiti for Its Annual Mission Trip
In 2013, a group from Tyndale traveled to Haiti in partnership with Bethany International, a Christian missions training and sending organization dedicated to mobilizing disciples of Jesus and the church worldwide for the increase of God's Kingdom. While there, current president of Tyndale Jeff Johnson discovered that Haitian pastor Herode Guillomettre also had a passion for publishing Christian literature.
Two years prior to the trip, Bethany International had created a program called Publish4All. This program develops a "high quality, low cost print-on-demand system that can be installed anywhere in the world, enabling frontline ministries to access and print life-changing Christian content at the local level.
The POD system is a 'bookshop in a box' allowing ministries and business people around the world to print and make books at the point of distribution" (http://www.publish4all.com/about/). Aware of this program, Jeff suggested the opportunity to Pastor Guillo and invited him and his team to a meeting in the United States to develop the idea. Tyndale House agreed to provide the funds for the system and has since partnered with Pastor Guillo.
In March 2016, Tyndale sent a team to Haiti for the third time. Ten Tyndale employees arrived in Port-au-Prince and were warmly greeted by Pastor Guillo.

Sarah Atkinson, Sharon Leavitt, Linda Giacovelli, Kara Leonino, Keith Williams, Edline Guillomettre, Herode Guillomettre, Josh Force, John Pederson, Erin Smith, David Ouoba, and Dan Farrell
While Jeff Johnson and CJ Van Wagner, vice president of Publishing Services, stayed in Port-au-Prince to help with Pastor Guillo's publishing ministry, the remaining team members traveled to the Relief Group Hospitality Home near Petit-Goâve, where Erin Smith and Keith Williams presented at a two-day seminar for pastors from all over Haiti.
The Tyndale team joyfully united with Haitian brothers and sisters through the love of God and their desire to spread that love through Christian literature.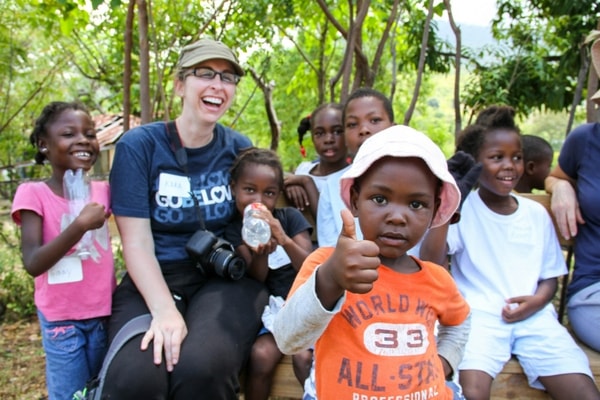 Kara Leonino with children from Tapion.
After hosting the seminar, the team traveled to the small mountain village of Tapion to serve Pastor Lisiano's church. They taught a Bible lesson, played games with the children, and helped complete the construction of Pastor Lisiano's home before he married his fiancée, Aline, on Saturday.
Pastor Guillo, Edvard Stevenson, Pastor Lisiano, and Jeff Johnson standing in front of Pastor Lisiano's new home.
The team had the pleasure of attending Lisiano and Aline's wedding. Linda Giacovelli served as the matron of honor for Aline, David Ouoba helped prepare the reception feast, and the rest of the team decorated the chapel and took photos.
On Sunday, the team participated in a special worship service at Pastor Guillo's church in Port-au-Prince. Several different choirs led worship, Josh Force led Be Thou My Vision, and Keith Williams shared a brief message from 2 Thessalonians 1:3-12.
A special worship service at Pastor Guillo's church in Port-au-Prince.
When asked about the personal impact of the trip, art director Dan Farrell said, "I have a new appreciation for those who serve long-term in difficult places like Haiti. Their courage, endurance, faith, and hope are inspiring to me."
David Ouoba, distribution manager, added, "I learned to rely on and trust God more, especially when I feel more vulnerable and unprepared. That is when God shows up in a big way. I was reminded that God's promises are always true as I experienced it during this trip."
Tyndale House plans to continue to work alongside Pastor Guillo. As they do, please pray for the Haitian church as it continues to shine as a bright light for Jesus in a dark place.
The Tyndale team with neighborhood kids in front of Pastor Lisiano's house.