December 20, 2016
Enjoying the Days Before Christmas by Crystal Bowman
Christmas is the busiest season of the year—and the season seems to be getting longer and longer! When I was growing up, the Christmas season didn't begin until after Thanksgiving. We would put up our tree one week before Christmas and take it down a few days after New Year's Day.  Our Christmas season was about 2–3 weeks at most. So what has changed? I think you know. The retailers love this holiday because it means lots of sales and profit. I've seen Christmas items on display in early October, and one of our local radio stations starts playing Christmas songs the day after Halloween. Don't get me wrong—I don't think it's a bad thing to celebrate Christmas for many weeks or even a couple of months. But the important thing is to keep our focus on the real meaning of Christmas to avoid getting caught up in the holiday hype and materialism that comes with it. If you have children or grandchildren in your life, then you know how hard it is to keep little ones from wanting everything they see. With a little thought and planning, you can help your children capture the true wonder and miracle of Christmas.

The Countdown
The days leading up to Christmas seem like an eternity to a child. The solution? An advent calendar! It's a great way to help kids count the days until Christmas as they anticipate their favorite day of the year. Some years I would buy a fancy Hallmark calendar with little flaps that opened. My kids enjoyed taking turns opening the flaps to reveal a hidden picture. Other years, I'd make a simple calendar out of green construction paper and use Christmas stickers to count down the days. Either option works well and gives children something fun to do every day in December.
The Nativity
One of my favorite Christmas items is the Nativity scene. Whether it's a front yard display, ceramic figurines on a fireplace mantle, a tree ornament or a snow globe, the nativity represents the Christmas miracle and reminds us of God's greatest gift to the world. When my kids were growing up, I had a look-but-don't-touch, hand-painted set that always found a prominent place in our home. But now that I'm a grandma, I have a kid-sized nativity set with plastic pieces so my grandkids can play with it. We imagine what the characters say to each other and wonder if baby Jesus is crying. Adults can tell the story of Christmas through a hands-on approach that kids love.

Christmas Books
Children love books—especially when Mom or Grandma are taking the time to read the books. A young mom shared a great idea with me that I'd love to pass along. Every year, she wraps twenty-five Christmas books (old, new, or borrowed) and puts them in a basket. Beginning December 1, her children take turns choosing a book from the basket. They unwrap and read one book per day until Christmas. It's an affordable way to keep the focus on Christmas while spending meaningful time with children during this busy season.
The True Story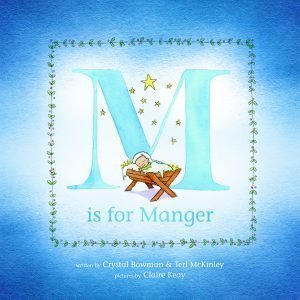 The true Christmas story is found in the Gospel of Luke, and a few details are also given in Matthew. The story has been retold through the centuries by writers who want to share it with children in age-appropriate fashion. My latest picture book, also available in a board book edition, is titled M is for Manger (Tyndale). It tells the Christmas story in chronological order, helping young minds understand how and where Jesus was born. Bible verses are included on every page so readers will know where the events or prophecies can be found in Scripture. As children turn the pages and follow the letters of the alphabet, the events surrounding the birth of Jesus unfold before their eyes. During a recent radio interview, the host asked me why we chose M is for Manger as the title. I responded, "Because the manger is where we find Jesus!"
If God has placed children in your life, use this Christmas season to share the true story of Christmas—that God sent his only Son to be our Lord and Savior.
Merry Christmas!
Crystal Bowman
---
Crystal Bowman  is a former preschool teacher, award-winning author, national speaker, and Mentor for MOPS (Mothers of Preschoolers). She has written more than 100 books for children, three books for women, numerous magazine articles, and Bible study materials. She also writes stories for Clubhouse Jr. magazine and lyrics for children's piano music. She graduated from Calvin College with a degree in elementary education and studied early childhood development at the University of Michigan. She has written books for many children's series, such as Little Blessings, BOZ the Bear, and I Can Read! She is the co-author of Our Daily Bread for Kids , My Mama and Me , and M is for Manger . She and her husband live in Florida.