January 29, 2019
Women's Studies
Women's Studies
Highlighted Resources 
See all resources HERE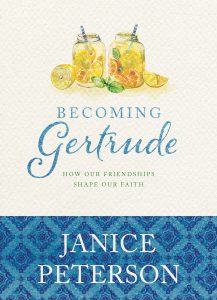 Becoming Gertrude is one woman's wisdom on the beauty of spiritual friendship and God's unfolding grace over the course of a life lived for Him. Jan uses the term spiritual friendship to capture this idea of journeying with others through life, sharing experiences and wisdom and seeking God together. In Becoming Gertrude, Jan wants to be your spiritual friend, sharing what she's learned and painting a picture of what you might uncover as you seek to develop these kinds of relationships in your own life.
Join Jan in exploring the critical pieces of spiritual friendship: hospitality, encouragement, acceptance, serving, and caring. With seasoned wisdom and winsome stories, Jan uses personal experiences to walk you through what each of these things can mean in your life. You can have rich, rewarding, faith-filled friendships that emerge from the everyday rhythms of your days—and Becoming Gertrude will lead you on that journey.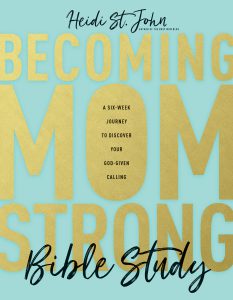 A six-week guided journey of learning to trust God with your deepest parenting questions.
There's nothing wrong with good advice—but today's moms need so much more than that. We moms are crying out for true wisdom and strength that will teach us how to parent our kids well, and to help us navigate challenges and cultural issues previous generations never saw coming.
The Bible tells us that the beginning of wisdom is knowing the Lord. And that's right where the journey to becoming MomStrong starts.
Join Heidi St. John in this six-week Bible study based on her popular book Becoming MomStrong. Each week, you'll find stories from Heidi, Scriptural reflections, encouraging Bible verses, and prayer prompts to help train your own heart—and your kids'—to know Scripture, hold biblical values, discern true teaching, and develop godly character.
A great resource for churches, women's groups, or individuals, the Becoming MomStrong Bible Study will help you seek God's guidance every day in your parenting hopes, fears, struggles, and victories.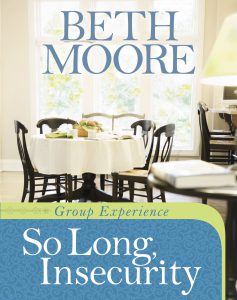 Building upon the message of the bestselling book, So Long, Insecurity, the So Long, Insecurity Group Experience will be an important tool for small groups, Bible studies, and book clubs to use as they dig even deeper into what it means to be truly secure. Designed to bring women together in a community of support, the Group Experience provides an in-depth look at what the Bible has to say about image, society, relationships, and our innate longing for soul-deep security. The So Long, Insecurity Group Experience will take readers on a journey deep into God's Word and encourage them to work through their struggles with insecurity together while growing in knowledge of the only One who can provide lasting security.
See all resources HERE
---
Highlighted Authors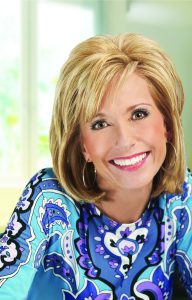 Beth Moore 
Beth Moore has written many best–selling books and is a dynamic teacher and a prolific Bible–study author whose public speaking engagements take her across the United States to challenge tens of thousands. Beth is focused on teaching women all over the world and is known and respected wherever she goes. She is a dedicated wife and mother of two adult daughters and lives in Houston, Texas, where she leads Living Proof Ministries and teaches an adult Sunday school class. Beth is one of the best known women in the evangelical Christian market.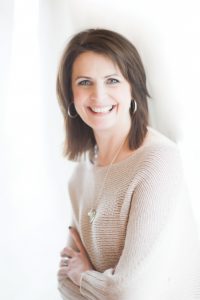 Heidi St John
Heidi St John is a mother, a grandmother, and a wife of 25 years. She is a popular conference speaker, radio personality, author and blogger whose message of returning to God's Word and embracing our ministry as mothers has resonated with several hundred thousand followers in social media, through books, and radio appearances. Her refreshingly transparent, vulnerable style allows her readers to identify with her and invites them to join as fellow pilgrims on a journey rather than idolizing the author as someone who has "arrived".
Her calendar regularly has her speaking across the United States over twenty times in front of audiences as large as 20,000.
Heidi lives in Battle Ground, Washington with her husband and five of their seven children ranging from age kindergarten to adulthood. When she's not writing, traveling or speaking she loves to spend time with her grandchildren.