February 27, 2017
Beloved Children's Author Dandi Daley Mackall Releases a WWII Romance Novel
Beloved Children's Author Dandi Daley Mackall Releases a WWII Romance Novel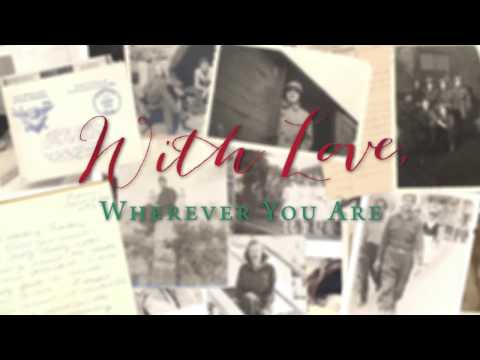 This is an excerpt from With Love, Wherever You Are by Dandi Daley Mckall.
Sarah threw rice as Helen and Frank made a dash for the car.
"Are you going to let your sister-in-law do that to your wife?" Helen challenged, picking grains of rice out of her hair as they settled into the backseat of Walt's big Ford.
"You don't like rice, Mrs. Daley? I do." Frank grinned. "I do. Those are two pretty great words. I like the way you said them in there."
"Do you?" They kissed, husband and wife.
In the front seat, Sarah snuggled closer to her husband. "Walter, honey, we're late for the reception. Off to the Blackhawk!"
The Blackhawk's private dining room was the height of elegance, with a gorgeous chandelier and a waterfall in one corner. Helen and Frank slid into a curved booth at the edge of the little dance floor, and the waiter appeared with a bottle of champagne.
"We ordered prime rib and potatoes," Sarah said, "because, of course, the order had to be placed ahead of time."
"Prime rib?" Frank glanced at Helen, as if checking to see if Sarah was serious. Helen shrugged.
"Y'all only get married once, you know," Sarah said.
"You better only get married once," Walt added, narrowing his eyes at Frank.
Frank put his arm around Helen's shoulders. "Once will do."
While they ate their salads and waited for dinner, Frank thanked Walt and Sarah a dozen times. They talked about everything—Percy Jones hospital, Helen's "boys" there, Frank's disease ward. Sarah quizzed him about his family, and Frank asked them for Eberhart news.
Sarah changed the subject so smoothly, while keeping the conversation flowing and making sure everyone had what they needed. Helen hoped she'd be half the hostess—and half the wife—Sarah was.
Walt took Sarah's hand. "M'lady, may I have this dance?"
Frank followed suit, and he and Helen took to the dance floor.
"Sorry," he said, when they bumped feet. "I know you love to dance. I will too, now that I have you to hold."
"We'll have lots of time for me to show you some fancy steps." She nestled her head on his chest. "But for now, this is swell."
The meal was a celebration, filled with insider Eberhart stories that Frank graciously laughed at. Helen was only half listening when the waiter came out carrying a three-layered wedding cake, topped with an Army groom and bride and a tiny American flag. The music switched abruptly to "It Had to Be You."
"Oh, Sarah. How on earth did you manage this?" Helen asked.
Sarah clapped her hands. "Isn't that topper just too much! I found it at Marshall Field's. I'll hang on to it until y'all get back from this dreadful war."
This dreadful war.
Helen laughed along with Sarah and cut the cake with Frank's hands covering hers and making a mess of the job. But she couldn't get the words out of her head. The whole day had been an enchanted dream. What would happen when the dream ended, when she and her new husband went to opposite ends of the world? What would happen to them in this dreadful war?
*****
Below are a handful of pictures that chronicle Helen and Frank's love story.