Welcome to the Preorder Freebie Page!
Welcome to the Preorder Freebie Page!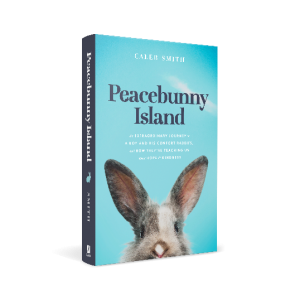 Thank you for your interest in Peacebunny Island by Caleb Smith. Peacebunny Island demonstrates the power of Caleb's unbreakable desire to spread kindness and compassion. In his book, Caleb illustrates how he turned his 8-year-old dream—to train endangered and rescued rabbits to become comfort animals—into his present-day reality as a 16-year-old entrepreneur, owning and operating a private 22-acre Mississippi River sanctuary called Peacebunny Island.
Caleb recounts the calling he discovered through the loss of his first pet rabbit when he was 8 years old, and how he now connects and uplifts others by sharing his love for rabbits with those in need of comfort.
In Peacebunny Island, Caleb shares the challenges and triumphs he endured as a young entrepreneur, and his story proves the meaning of tenacity, forgiveness, and resilience through the eyes of an innocent dreamer.
Peacebunny Island is an unforgettable journey of determination and faith destined to touch your heart and to inspire you.
PREORDER and get FREE DOWNLOADS
Enter your order number in here for your preorder of Peacebunny Island and get free downloads featuring delightful bunny memes and a beautiful FAQ about rare bunny breeds!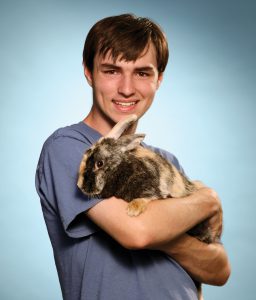 Caleb Smith is the 16-year-old visionary behind Peacebunny Island, and animal sanctuary where he trains rescued and rare heritage-breed rabbits to become comfort animals. His business includes a fostering program that has involved nearly 500 families; a Peacebunny Unit, which brings therapy rabbits to visit seniors at assisted-living homes and hospices; and a responder program that helps people who are dealing with loneliness, trauma, and grief, including those in crisis situations and juvenile justice facilities.
Caleb launched the Peacebunny Foundation, which hosts rabbit-themed STEM educational programs to excite youth about science, technology, engineering, and math and to mobilize them for community service. He is the recipient of the Gold Congressional Award and the Duke of Edinburgh's International Award. He lives in Minneapolis, Minnesota, with his mom and dad, and he cares for a colony of rabbits at Peacebunny Cottage.