Supplemental Verses for A Child's First Bedtime Prayers
Supplemental Verses for A Child's First Bedtime Prayers

A Child's First Bedtime Prayers draws little ones into cozy bedtime talks with Jesus and he answers them back! Each of the 25 prayer conversations focus on a different topic and include both prayers for little ones to pray and answers from Jesus. Jesus' responses are rooted in Scripture and are full of encouragement, comfort, and age-appropriate teaching.
Listed below are supplemental bible verses that go with the prayers found in the book.
Let's Talk
You saw me before I was born. – Psalm 139:16
I am the good shepherd; I know my own sheep, and they know me. – John 10:14
Why Do I Have Bedtime?
The heavens proclaim the glory of God. The skies display his craftsmanship. Day after day they continue to speak; night after night they make him known. They speak without a sound or word; their voice is never heard. Yet their message has gone throughout the earth, and their words to all the world. – Psalm 19:1-4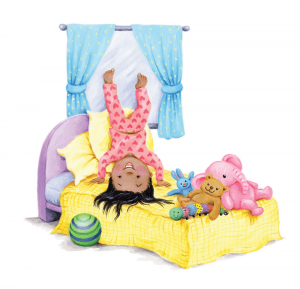 Best Friends Forever
We can rejoice in our wonderful new relationship with God because our Lord Jesus Christ has made us friends of God. – Romans 5:11
One who has unreliable friends soon comes to ruin, but there is a friend who sticks closer than a brother. – Proverbs 18:24
You Keep Me Safe
The Lord is my light and my salvation—so why should I be afraid? – Psalm 27:1
Thanks for Little Things
Ever since the world was created, people have seen the earth and sky. Through everything God made, they can clearly see his invisible qualities—his eternal power and divine nature. – Romans 1:20
The Lord directs the steps of the godly. He delights in every detail of their lives. – Psalm 3:23
How Can You Love Me?
This is how God loved the world: He gave his one and only Son, so that everyone who believes in him will not perish but have eternal life. – John 3:16
No power in the sky above or in the earth below—indeed, nothing in all creation will ever be able to separate us from the love of God that is revealed in Christ Jesus our Lord. – Romans 8:39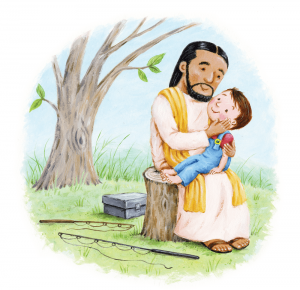 Whiter Than Snow
We are God's masterpiece. He has created us anew in Christ Jesus, so we can do the good things he planned for us long ago. – Ephesians 2:10
You Made Me the Way I Am
Peter asked Jesus, "What about him, Lord?" Jesus replied, ". . . what is that to you? As for you, follow me." – John 21:21-22
Pay careful attention to your own work, for then you will get the satisfaction of a job well done, and you won't need to compare yourself to anyone else. – Galatians 6:4
Thanks for the Animals
Take a lesson from the ants, you lazybones. Learn from their ways and become wise! – Proverbs 6:6
Never Alone
Look! The virgin will conceive a child! She will give birth to a son, and they will call him Immanuel, which means "God is with us." – Matthew 1:23
Don't love money; be satisfied with what you have. For God has said, "I will never fail you. I will never abandon you." – Hebrews 13:5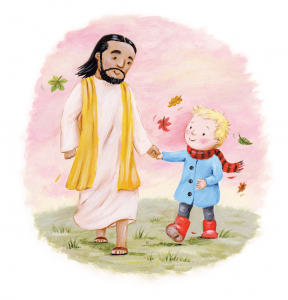 Grace over Guilt
And their sins and their lawless deeds I will remember no more.  – Hebrews 10:17, NASB
Thanks for Colors
I have placed my rainbow in the clouds. It is the sign of my covenant with you and with all the earth. – Genesis 9:13
"No" Answers
All of God's promises have been fulfilled in Christ with a resounding "Yes!" – 2 Corinthians 1:20
A Family of Thank-Yous
Honor your father and mother. Love your neighbor as yourself. – Matthew 19:19
Every time I think of you, I give thanks to my God. – Philippians 1:3
For this reason I kneel before the Father, from whom every family in heaven and on earth derives its name. – Ephesians 3:14-15
Night Watch
Indeed, he who watches over Israel never slumbers or sleeps. – Psalm 12:14
Morning, noon, and night I cry out in my distress, and the Lord hears my voice. – Psalm 55:17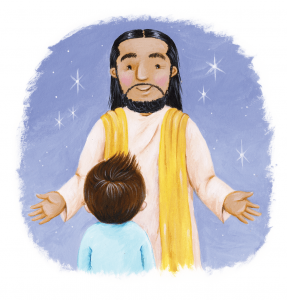 No Fair
God did this to demonstrate his righteousness, for he himself is fair and just, and he makes sinners right in his sight when they believe in Jesus. – Romans 3:26
Surely your goodness and unfailing love will pursue me all the days of my life, and I will live in the house of the Lord forever. – Psalm 23:6
Everyday Praise
Let everything that breathes sing praises to the LORD! – Psalm 150:6
I will praise the Lord at all times. I will constantly speak his praises. – Psalm 34:1
Self-Control Goal
You are not controlled by your sinful nature. You are controlled by the Spirit if you have the Spirit of God living in you. – Romans 8:9
Sleepyhead Prayer
Pray in the Spirit at all times and on every occasion. Stay alert and be persistent in your prayers for all believers everywhere. – Ephesians 6:18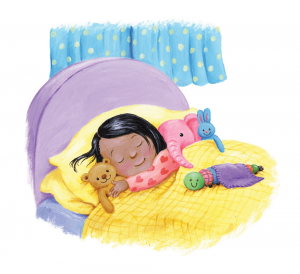 Thanks for Laughter
Truth springs up from the earth, and righteousness smiles down from heaven. – Psalm 85:11
Sarah declared, "God has brought me laughter. All who hear about this will laugh with me." – Genesis 21:6
You Do Care
Jesus wept. The people who were standing nearby said, "See how much he loved him!" – John 11:35-36
I have told you all this so that you may have peace in me. Here on earth you will have many trials and sorrows. But take heart, because I have overcome the world. – John 16:33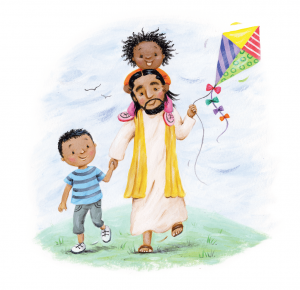 I Can't See You
I pray that the eyes of your heart may be enlightened, so that you will know what is the hope of His calling, what are the riches of the glory of His inheritance in the saints. – Ephesians 1:18, NASB
We live by believing and not by seeing. – 2 Corinthians 5:7
People I Don't Know
Pray in the Spirit at all times and on every occasion. Stay alert and be persistent in your prayers for all believers everywhere. – Ephesians 6:18
Your Peace
Jacob awoke from his sleep and said, "Surely the Lord is in this place, and I wasn't even aware of it!" – Genesis 28:16
Thanks for You, Jesus!
May you have the power to understand, as all God's people should, how wide, how long, how high, and how deep his love is. May you experience the love of Christ, though it is too great to understand fully. Then you will be made complete with all the fullness of life and power that comes from God. – Ephesians 3:18-19
Don't let your hearts be troubled. Trust in God, and trust also in me. There is more than enough room in my Father's home. If this were not so, would I have told you that I am going to prepare a place for you? When everything is ready, I will come and get you, so that you will always be with me where I am. – John 14:1-3