June 20, 2018
Next Stop for the Inspire Bible TOUR: Mother-Daughter Workshops
Next Stop for the Inspire Bible TOUR: Mother-Daughter Workshops
If you've never attended an Inspire Bible TOUR workshop, now is the time! We're gearing up for an exciting fall TOUR with all-new Mother-Daughter Bible journaling workshops featuring the highly-anticipated Inspire Bible for Girls that releases in August.
Two-hour-long hands-on Bible journaling workshops teach participants how to use their creativity to connect with God through his Word. Whether you feel advanced or at the beginner-level when it comes to your artistic abilities, this workshop is for you! All that is required is that you enjoy being creative—or at least once did! You were created in God's image, and he is the creator of everything, so let the Word of God inspire you!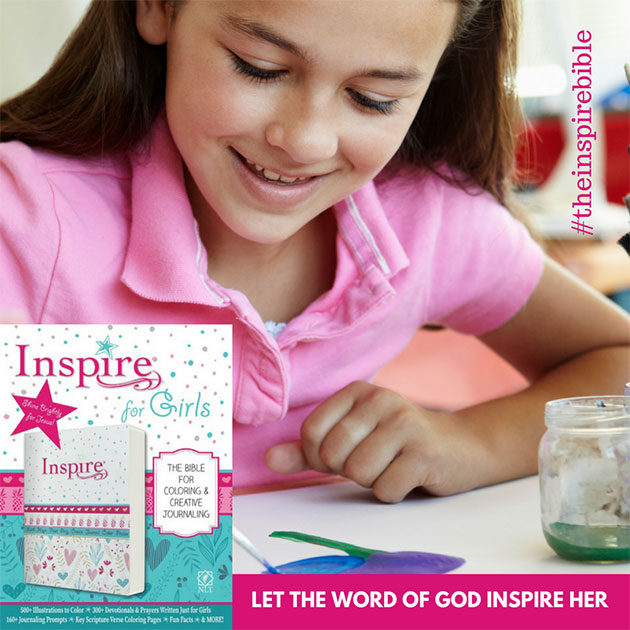 Inspire Bible TOUR workshops help people discover a new way to connect with God. It's a fun, interactive time together in God's Word where we process a passage of Scripture together with avid Bible-journaler and youth pastor Amber Bolton, who shares her four-step Bible study process plus Bible journaling tips and techniques that you'll get to try yourself during the workshop. It's amazing how each person comes away with a unique message from God and a unique expression of their time in God's Word on their page.
If you are interested in attending a Bible journaling workshop together with your daughter, look for upcoming Inspire Bible TOUR dates and locations to be announced soon at www.Facebook.com/InspireBible.
To see the full Inspire Bible line—including the new Inspire Bible for Girls—click here
Look inside the Inspire Bible for Girls
---
If your church would be interested in hosting a workshop, we'd love for someone on the church's staff to contact us at inspirebibletourbooking@gmail.com to book a workshop. Dates and times are flexible, but Friday evenings or Saturday morning or afternoon workshops are preferred.