Faith in Hard Times
Faith in Hard Times
Life is hard. For those who follow Jesus, we know that we aren't sheltered from the storms of life but are strengthened by our faith as we experience loss and brokenness.
As believers, we either walk through pain ourselves or alongside others when . . .
Trust is broken.
A marriage is dissolving.
A child is depressed—or we are.
Forgiveness is needed and yet so hard to give.
We live the pain of poor decisions in our past.
Focus on the Family offers life-giving resources for some of life's most difficult challenges. With books on marriage, parenting, and cultural hot topics, you'll find biblically based support and encouragement to help you through the toughest times.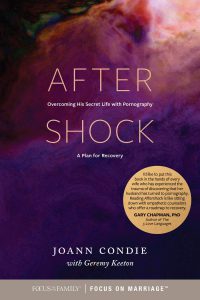 My Husband Has Been Unfaithful, and I'm in Shock
Find strength as you confront infidelity and deal with the overwhelming emotions that surround your husband's betrayal. In Aftershock, two experienced counselors—one female and one male—share hope and a practical recovery plan based on biblical practices and leading clinical wisdom. In the aftershock of devastation, you can heal.

How Does a Christian Deal with Depression?
Whether you're feeling "off" yourself or know someone who is, Paul Asay wants to help. With transparency and tenderness, Paul shares about his depression and the depression experienced by his son. Beauty in the Browns helps you better understand what depression looks like, how to deal with it, and ways to ward off its return. Perhaps the biggest gift is Paul's mixture of honesty and humor, which models how to talk about this often unmentionable mental illness, especially for Christians.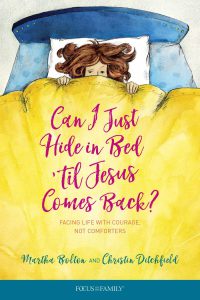 When You Can't Face Another Day
Depression, fear, a sense of unworthiness, and unfulfilled dreams can make you not want to face life. And yet hiding under the covers only makes matters worse. Martha Bolton and Christin Ditchfield understand and gently help you climb out from under your emotional bedcovers, face your fears and doubts, and step into the life God has planned for you.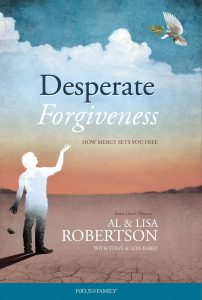 Finding Healing on the Path to Forgiveness
By sharing true stories from friends and family as well as biblical examples, Al and Lisa Robertson offer the support you'll need on the hard road to forgiveness. You'll learn about the necessity and power of humility, the freedom found in letting go of bitterness, and the restoration and reclamation on the other side of desperation. Let Desperate Forgiveness show you the way to a changed life and revitalized marriage.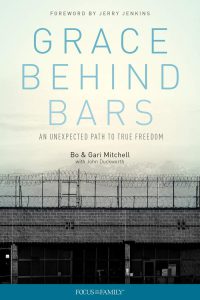 Find Spiritual Freedom in Life's "Prisons"
Grace Behind Bars shares the true and dramatic account of how Bo Mitchell, businessman and chaplain for the Denver Nuggets, inexplicably ends up in federal prison only to find God's true freedom behind bars. Just before Bo enters prison, his wife, Gari, becomes incapacitated by a brain illness and enters her own prison of clinical depression. This story will not only inspire and encourage readers, it will show them how they, too, can find spiritual freedom in life's "prisons" if they choose to see God's hand in their lives.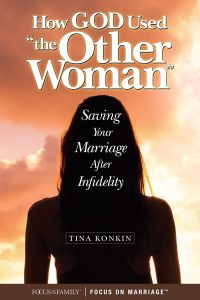 It May Seem Inconceivable to Trust Again
Author Tina Konkin shares how she and her husband, Ron, saved their marriage after his affair and fought to make it better than ever before. You'll learn how she found the strength and grace to forgive and the three powerful healing principles that helped rebuild their marriage into a thriving one.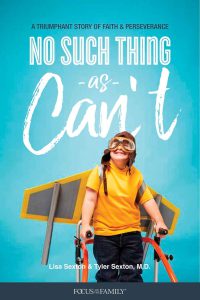 Stay Faithful, Even When You Can't See God's Plan
This is the true story of Tyler Sexton, who has cerebral palsy, and the sacrificial love of his mother, Lisa Sexton. Tyler faithfully followed God's plan to become a pediatrician despite his disability and became the doctor he wished he had when he was growing up. He now gives back to those who face similar difficulties, spreads awareness of cerebral palsy, and courageously shares the Good News of Jesus. His mother, Lisa, offers personal insight for mothers of children with disabilities.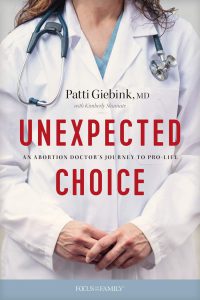 Why This Former Abortion Doctor Can't Keep Quiet
Abortion is a sensitive subject. It is emotional and divides families and friends. In Unexpected Choice, Dr. Patti Giebink talks about her time at Planned Parenthood, where she performed abortions for several years. With candor and compassion, she tells her story and helps readers understand all sides of the issue. You will hear her heart for God's grace and forgiveness so that you, too, can speak with truth and love.
Not All Wounds Are Visible—Finding Healing for PTSD
A trauma survivor's worst wounds are invisible. They are difficult to talk about, and though they remain hidden, they are never forgotten. This exacts a toll not only on these hurting men and women but also on their loved ones. Many can't help but wonder, Will I ever find freedom from my past?
In Unshackled, Elizabeth Stevens uses her unique perspective as a trauma survivor and a professional psychiatrist to help individuals affected by trauma to discover the path to healing. No matter how deep the scars trauma inflicted, peace is possible. Learn to break free from the chains holding you back and embrace the abundant life that God has in store for you.