February 8, 2022
Exclusive: Here's the Cover and Title of My Next Thriller!
Exclusive: Here's the Cover and Title of My Next Thriller!

Behind the Scenes with Joel
This is a very special edition of the What's the Story newsletter! It's hard to believe that it's been nearly three years since we began this e-publication, but I'm so grateful that you've become a subscriber because this is the main place that I share the latest news about my books, about the craft of writing, provide special insight into the worlds of my characters, and talk about the broader world of political thrillers.
If the newsletter has been going for three years, what makes this edition so special? Because I'm ready to share with you—my faithful newsletter audience—an exclusive first look at the title and cover of my next Marcus Ryker novel. Allow me to present to you The Libyan Diversion.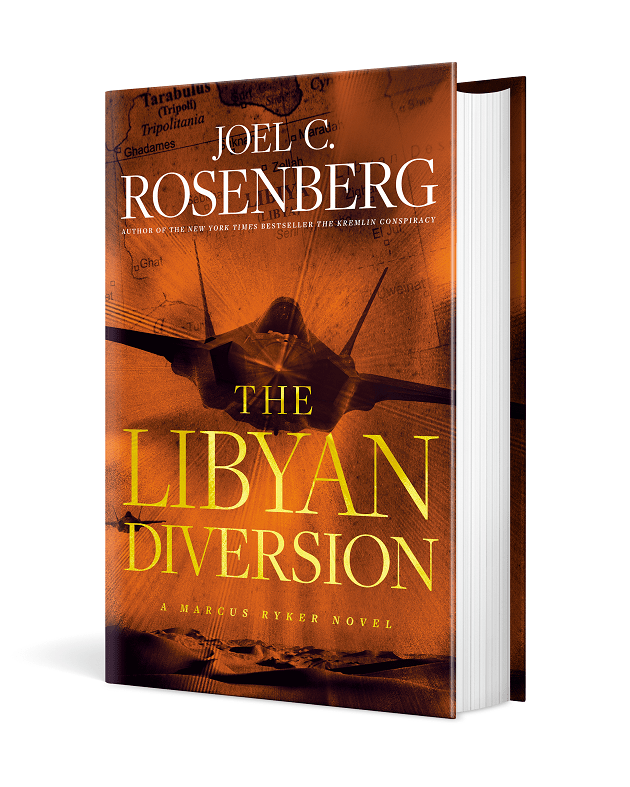 Some of my readers will be surprised to know that I'm writing another Marcus Ryker novel. They've gotten used to me writing trilogies or short series. But I've fallen in love with this character, his friends, his family, and the world he's operating in. True, readers never know what character I might kill off next. Why? Because evil is real and life is short and one never knows if we have another day. That said, Ryker lives another day—at least in novel number five in the series . . . and maybe longer.
Tyndale House always does a great job with book covers, but they outdid themselves with this one. I am so excited about The Libyan Diversion. First of all, because Marcus Ryker is a man who is passionate about serving his country, pursuing justice, protecting the underdog, and trying to live out his faith. As you can imagine, those four attributes do not always cleanly interlock like a jigsaw puzzle, and the misfitting pieces can sometimes present very difficult and complex situations for Ryker to handle.
The second reason I can't wait for you to read this book is because of its central location. Many believe that Libya has slipped to irrelevance following the death of Muammar Gadhafi, but this North African country continues to be a hub of intrigue and terrorism. Why? In part because it's imploding. Not unlike Afghanistan, Libya has become an ungoverned—and nearly ungovernable—wasteland of poverty and misery. It is, therefore, poised to become the launching pad for attacks against Americans, the American homeland, and our allies, including Israel. This is the bizarre yet captivating world that Ryker is stepping into.
The Libyan Diversion will be on your bookshelves March 2023, and I will let you know soon when it is available for preorder.

You may ask: Why is there no Ryker novel for 2022? Because I released two books in 2021, The Beirut Protocol and Enemies and Allies, and that's enough to keep anyone busy! Currently I am editing and strengthening The Libyan Diversion to make sure it blows you away.
While you wait for it, this is the perfect time to catch up on any of my other books that you may have missed. Did you know that The Beirut Protocol is now in paperback, as are all the other Marcus Ryker novels? Or maybe you want to go all the way back and revisit The Last Jihad, the thriller that started it all.
Again, thanks so much for faithfully following the newsletter and taking the time to enjoy my books. Feel free to send the new cover around to your friends, let them know that you were in on the exclusive reveal, and encourage them to subscribe! And keep your eyes open for an exciting new feature that's going to be added to the newsletter in the next couple months!
—Joel C. Rosenberg