CPC 2020 Resources: Adventures in Odyssey and Otter B
CPC 2020 Resources: Adventures in Odyssey and Otter B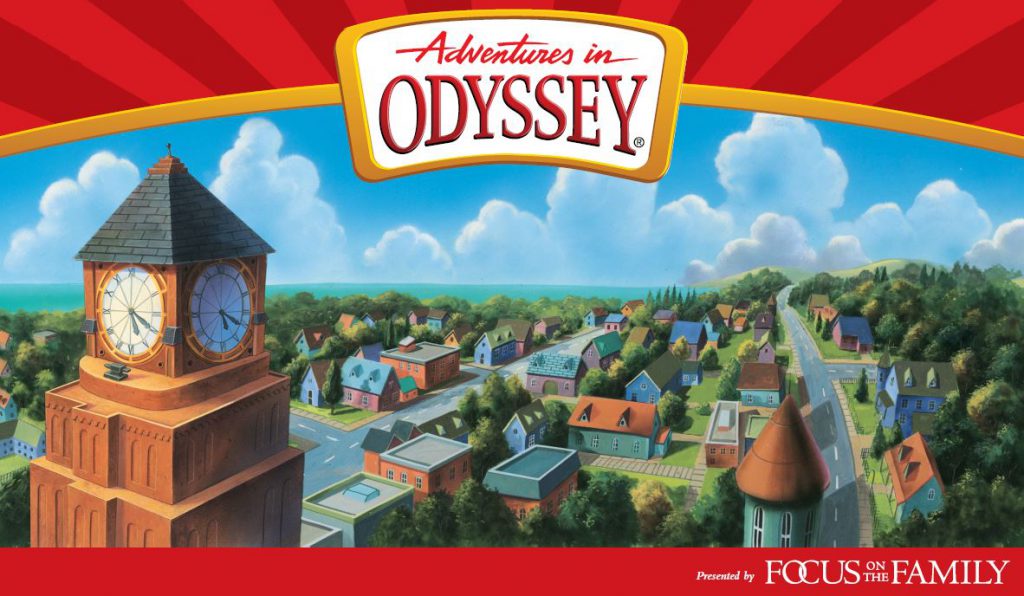 Adventures in Odyssey is an award-winning audio drama series created for ages 8-12 and enjoyed by the whole family. Each album lasts about 25 minutes and bring biblical principles to life, through a balance of fun, faith, and imagination. They're perfect conversation starters for parents and teachers and great for Sunday school or car rides.
Free Downloads
Download and print these free resources from Adventures in Odyssey by clicking on the links below!
– Connie-themed activity sheet
– Wooton-themed activity sheet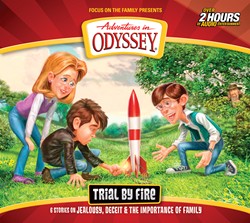 Trial by Fire
After years of searching for his true identity, Buck Oliver may finally get some answers when a painting from his mother suddenly shows up in Odyssey. But along with clues about his family, he also is subjected to the dangers of his past. Elsewhere the Parkers are forced to evacuate their home, and Connie and Jules face roommate troubles. Dramatic conclusions and fresh beginnings abound in these six entertaining and inspiring adventures in Odyssey!
List to an audio clip HERE!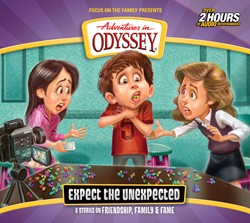 Expect the Unexpected
There's never a dull moment in the town of Odyssey! From a mysterious police investigation to an internship at a funeral home, every situation leads to unexpected results. When Zoe Grant and Olivia Parker start a new talk show, they reluctantly choose Jay Smouse as their first guest. But his talent of stuffing his mouth with jelly beans leads to frantic and frightening consequences. An impromptu Parker family picnic turns into an unusual opportunity for David as he decides to go to extreme lengths to prove a point to his kids about initiative.
Meanwhile, Morrie Rydell has a few tricks up his sleeve as he decides to see just how far Olivia will go to keep a promise. And Buck and the Meltsners face a sudden dilemma when a social worker questions Eugene and Katrina's role as Buck's guardians. Don't miss out on a single shock, twist, or turn as the folks in Odyssey learn about fame, friendship, family, and more in these six exciting stories. It's no surprise that you never know what will happen next when you have an adventure in Odyssey!
Listen to an audio clip HERE!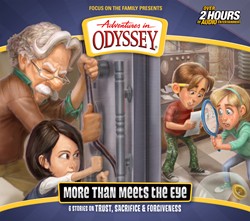 More Than Meets the Eye
Album 67, More Than Meets the Eye, explores six stories on trust, sacrifice and forgiveness.
Mystery and intrigue abound as Emily and Matthew are trapped inside an unfinished escape room in the basement of Whit's End. Meanwhile, the Odyssey High School Football team heads toward the state championship and deals with unexpected challenges.
Created for ages 8 to 12 and enjoyed by the whole family, Adventures in Odyssey award-winning audio dramas teach lasting truths and bring biblical principles to life, with just the right balance of fun, faith, and imagination. The adventures often start with grandfatherly Mr. Whittaker ("Whit"), who runs an ice cream shop called Whit's End. Young friends from all over town come to Whit for advice, and his employees (perky Connie Kendall and genius Eugene Meltsner) often learn as much as the kids! And Wooton Bassett, the zany, fun-loving mailman, helps the kids in his own unique way.
Listen to an audio clip HERE!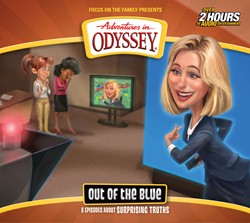 Out of the Blue
Jaws drop and eyes are opened at the surprises happening around the town of Odyssey. Everyone is finding or learning something unexpected! When Connie's roommate Jillian sets out to find a job, the hunt takes her all over town. But whether it's destroying a window display at Triple J Antiques, causing chaos at Odyssey General Hospital, or trying her hand at meteorology, she just can't catch a break. Will she ever find the perfect fit for her unique skills? Meanwhile, Penny and Wooton have a wonderful surprise to share when her parents come for a visit—if they can ever find the right time to tell them. And Wyatt resorts to using extraordinary methods when he uses a lie detector to show his sister Bridget how much he misses hanging out with her. But the biggest surprises won't be revealed until you listen to these six adventures. Don't miss a single twist, turn, or bombshell in Odyssey!
Listen to an audio clip HERE!
Learn Biblical Values with Otter B!
In each story the cute and curious Otter B learns a valuable lesson with his friends and family. At the end of every colorful book is a rhyme and a verse that reinforce the theme. Perfect for children under 5!
Check out all the Otter B books HERE!