Experience God's Story in a Refreshing New Way
Experience God's Story in a Refreshing New Way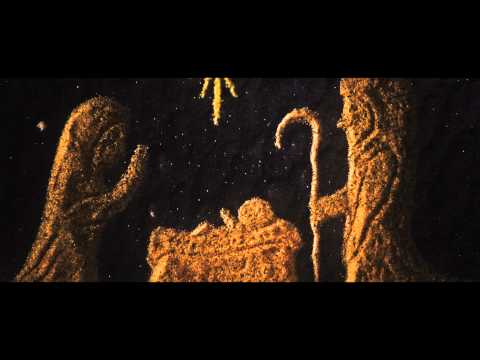 Ever wonder what it would be like to read the Bible in the order that the stories actually happened, and then also make sense of it for your life today? Well wonder no longer….
Why Is the Chronological Life Application Study Bible So Unique?
Have you ever opened your Bible and asked the following questions?
What does this passage really mean?

How does it apply to my life?

Why does some of the Bible seem irrelevant?

What do these ancient cultures have to do with today?

I love God; why can't I understand what he is saying to me through his Word?

What's going on in the lives of these Bible people?
Many Christians do not read the Bible regularly. Why? Because in the pressures of daily living, they cannot find a connection between the timeless principles of Scripture and the ever-present problems of day-by-day living. God urges us to apply his Word (Isa 42:23; 1 Cor 10:11; 2 Thes 3:4), but too often we stop at accumulating Bible knowledge. This is why the Life Application Study Bible was originally developed—to show how to put into practice what we have learned. Applying God's Word is a vital part of one's relationship with God; it is the evidence that we are obeying him. The difficulty in applying the Bible is not with the Bible itself but with the reader's inability to bridge the gap between the past and present, the conceptual and practical. When we don't or can't do this, spiritual dryness, shallowness, and indifference are the results.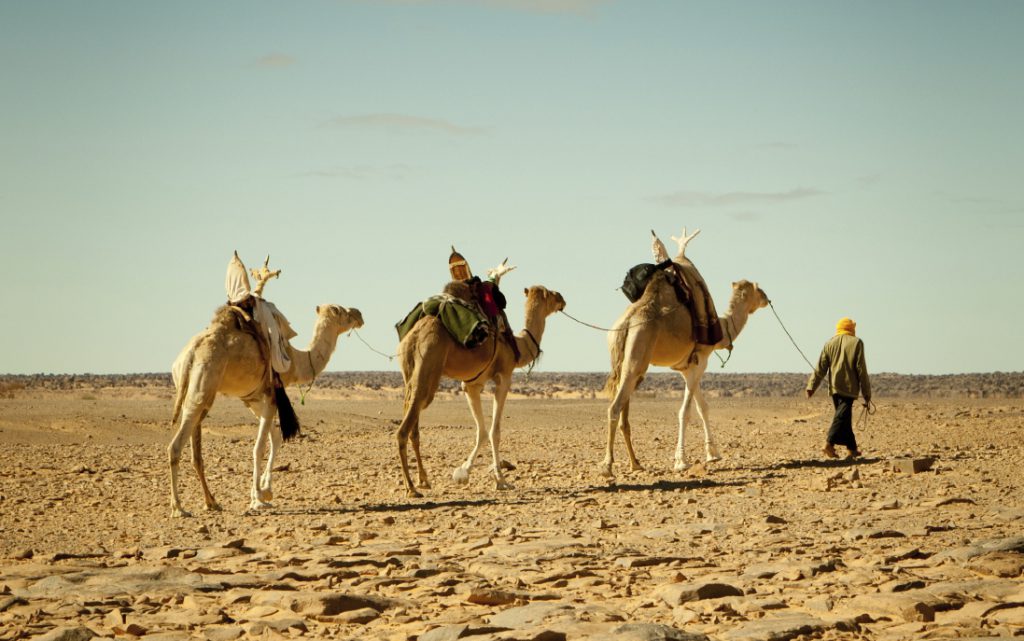 The words of Scripture itself cry out to us, "Don't just listen to God's word. You must do what it says. Otherwise, you are only fooling yourselves" (Jas 1:22). The Life Application Study Bible does just that. It helps you understand the context of a passage, gives important background and historical information, explains difficult words and phrases, and helps you see the interrelationships within Scripture. But it does much more. The Life Application Study Bible goes deeper into God's Word, helping you discover the timeless truths being communicated, see the relevance for your life, and make a personal application. The notes answer the questions, "So what?" and " What does this passage mean to me, my family, my friends, my job, my neighborhood, my church, my country?"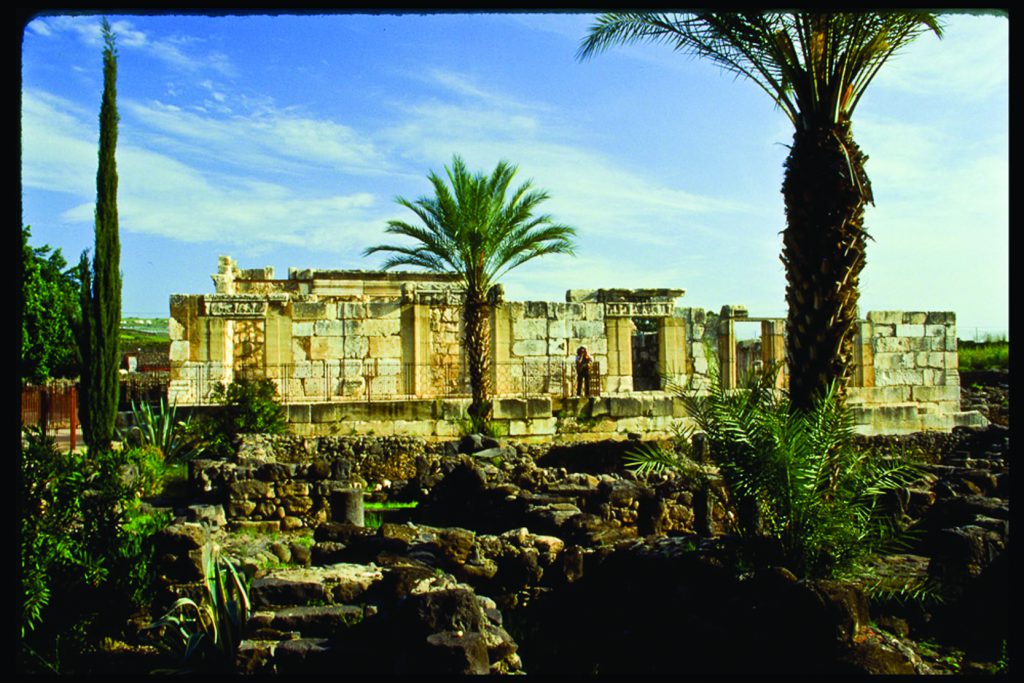 Developed by an interdenominational team of pastors, scholars, family counselors, and a national organization dedicated to promoting God's Word and spreading the gospel, the Life Application Study Bible took many years to complete, and all the work was reviewed by renowned theologians. This edition is the Chronological Life Application Study Bible, and it goes even further in helping you to understand the Bible and apply it to your life. Instead of the traditional canonical arrangement, this Bible is arranged so events appear in the order in which they occurred. Although it contains every word of the 66 books of the Bible, this Bible is divided into 10 eras of biblical history, with the books intermingled to help you see how the story actually unfolded. The Chronological Life Application Study Bible retains all the features that make the Life Application Study Bible so useful, and it adds more features for even greater depth in studying the Bible.
View or Download a Full Color Sampler of Genesis.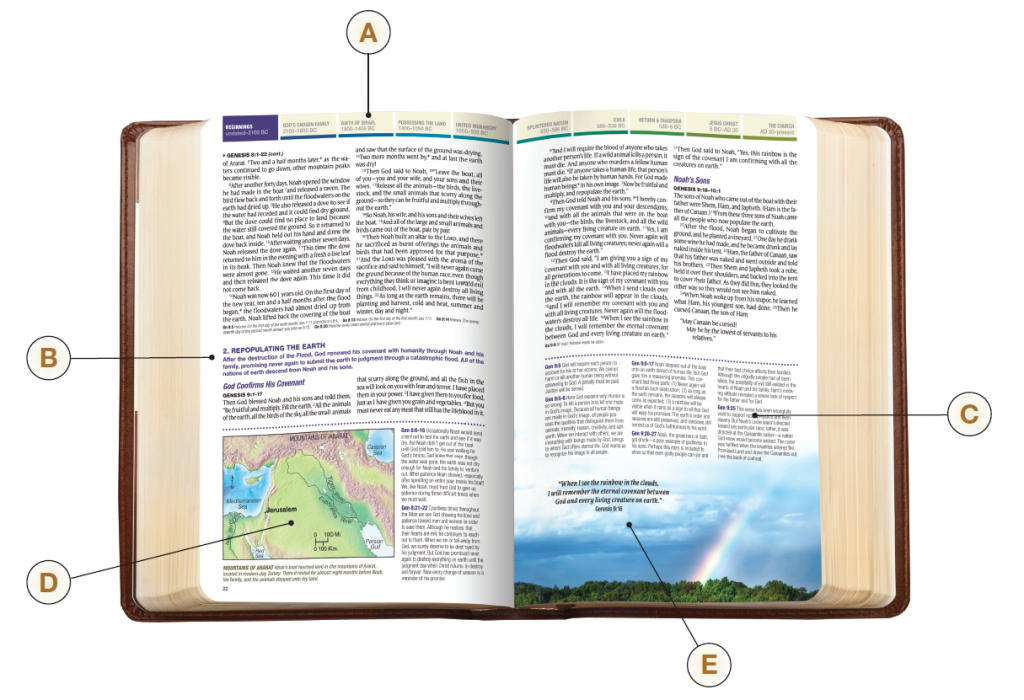 Interior features
A. Chronological Header System You'll never be at a loss for where you are in the story of the Bible. Every page shows the entirety of the historical eras covered with the current era highlighted for quick recognition of where you are in God's story.
B. Outline The Chronological Life Application Study Bible has a new, custom-made outline that was designed specifically from an application point of view. Several unique features should be noted:
To avoid confusion, each section outline has only three levels of headings. Main outline heads are marked with a capital letter. Subheads are marked by a number. Minor explanatory heads have no letter or number.
Brief paragraphs below each main head and subhead summarize the content of the following Bible text and offer important contextual information.
C. Notes In addition to providing the reader with many application notes, the Chronological Life Application Study Bible also offers several kinds of explanatory notes that help you understand culture, history, context, difficult-to-understand passages, background, places, theological concepts, and the relationship of various passages in Scripture to other passages. Maps, charts, and diagrams are also found on the same page as the passages to which they relate. For an example of an application note, see the note on John 20:23 (p. 1495). For an example of an explanatory note, see the note on Mark 11:1-2 (p. 1430). The abbreviation ff appears in some notes to indicate that the comments apply not only to the verse referenced but to the following passage as well.
D. Maps The Chronological Life Application Study Bible has more maps than any other Bible. A thorough and comprehensive Bible atlas is built right into each Bible section. There are two kinds of maps: (1) A section introduction map, telling the story of that section of Bible history. (2) Thumbnail maps in the notes, plotting most geographic movements in the Bible. In addition to these numerous full-color maps, there is a comprehensive set of color maps and diagrams at the back of this Bible.
Imagine reading a familiar passage of Scripture and gaining fresh insight, as if it were the first time you had ever read it. How much richer would your life be if you left each Bible reading with a new perspective and a small change for the better? A small change every day adds up to a changed life—and that is the very purpose of Scripture.