February 22, 2016
Tyndale Distributes Over 200,000 Bibles in China
Tyndale Distributes Over 200,000 Bibles in China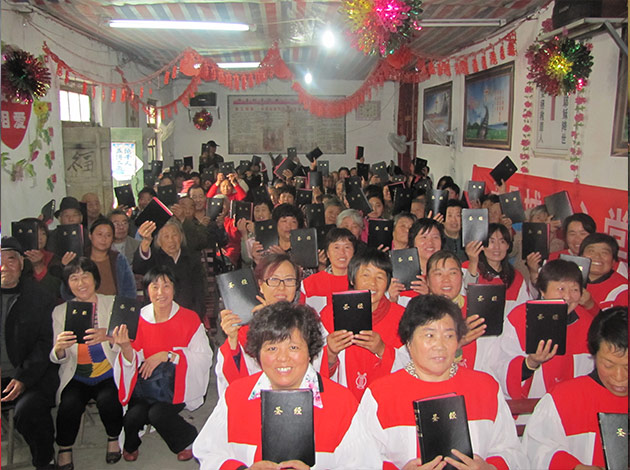 Five years ago, Tyndale explored how to purchase Chinese-language Bibles and create a cause campaign with Christian retailers to help provide God's Word to the millions of Christians in China who do not have Bibles. It was amazing to think that God would use us to help reach the largest population on earth with the gospel.
There are 1.4 billion people living in China, and it has the fastest growing church in the world. ShareWord Global president Peter Marshall reports that 12.5 million people become Christians each year in China, but only four million Chinese Bibles are printed annually.
As we pursued opportunities, God moved powerfully. The China Christian Council (CCC) approved printing and distributing Chinese Union Version Bibles to government sanctioned Protestant churches in China. Leaders from Tyndale House Publishers and ShareWord Global met with executives from every national Christian retailer to present the Gospel for China campaign. LifeWay Christian Stores approved the campaign and asked us to implement it in 15 weeks. Tyndale came together in a big way to create in-store POS, a church kit, banner ads, e-blasts, press releases, and social media posts, and to revise a video and develop a bookplate. Plus, the team had to create, print, and deliver three sample copies of Chinese Union Version Bibles to every LifeWay Christian Store. Over 201,000 Bibles were purchased by LifeWay customers in ten weeks. All glory to God!
A team of Tyndale and ShareWord Global staff traveled to China to distribute Bibles to Christians through registered churches. The Chinese church experience is very different from going to church in the United States. First, you have to arrive early to get a seat. Second, people actively listen to your message. They are hungry for the gospel, want to learn, and are focused. Third, there is very little cultural Christianity in China. If you attend a Christian church, you are serious about your faith. The final major difference is that very few Christians have Bibles of their own because the Bibles are either unavailable or people cannot afford to purchase one. With your help, we are making a difference in the lives of Chinese Christians by distributing over 201,000 Bibles from the Gospel for China campaign. Join us in praying that God will provide millions of Bibles for the church in China.