December 2: Mary, a Woman Who Said "Yes"
December 2: Mary, a Woman Who Said "Yes"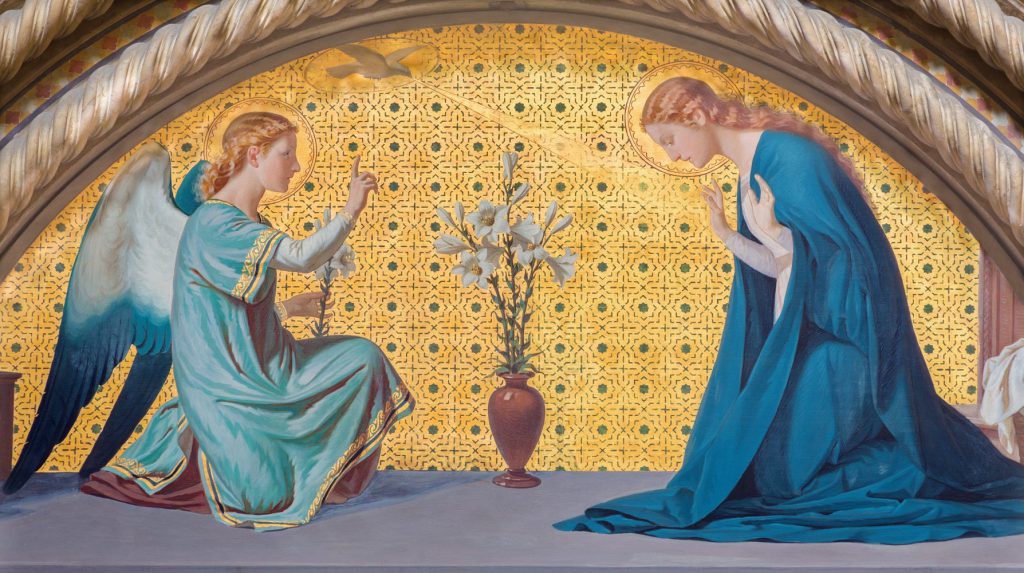 Excerpted from Finding Your Place in God's Story by Teresa Swanstrom Anderson
God is looking for people to use, and if you can get usable, He will wear you out. The most dangerous prayer you can pray is this: "Use me."

Rick Warren
This last extraordinary woman named in Jesus' lineage was also the one with the most direct connection to Him: His mother. Mary would say yes over and over. When I think about this incredible woman and wonder why God chose her out of any other woman in history, I come back time and time again to this uncomplicated but massively impactful word.
Her entire life would be built on repeating that one simple word—yes.
Many of us aren't quite sure what to do with Mary. We might think of her as passive and quiet, lingering on the edges of Jesus' life. Art through the ages has often portrayed her as delicate and serene (and inaccurately white and blonde). In the popular imagination, she's reserved and gentle, a presence next to the manger in nativity scenes and a footnote in the rest of Jesus' story.
But we've got her all wrong. The Mary of the Bible is not the Mary of your nativity set.
Mary was courageous, vocal, and strong. And she had a deep faith in the One she said yes to. That's why she said yes even though a pregnancy meant she could be stoned. While she was betrothed (engaged) to Joseph, they were not yet married, and an unwed pregnancy was dangerous to a woman in this time.
When God told Moses in Exodus that he was chosen to help bring freedom to the enslaved Israelites, Moses came up with excuses about why God should choose someone else instead. He focused on his own ability, forgetting that the only ability that matters when we're called to big things . . . is God's. Remember, God doesn't call the qualified; He qualifies the called.
But Mary, the woman chosen to carry the foretold Messiah and Savior of the world, didn't even hesitate. Her head must've swirled with thoughts and questions, but she only asked a single clarifying question: "How will this be, since I am a virgin?" (Luke 1:34, ESV). Mary's question was not an expression of doubt, but a posture of wonder. She was "in" without more information, trusting that God would tell her more when and if He needed her to know.
God chose the right woman for the job. He knew she was both tough-skinned and tenderhearted enough to become the mother Jesus needed. That's why Gabriel greeted her with the words "Greetings, O favored one, the Lord is with you!" (Luke 1:28, ESV).
Luke 1:30 goes on to say, "And the angel said to her, 'Do not be afraid, Mary, for you have found favor with God'" (ESV). For years I figured Gabriel was telling her to not be afraid because she was a bit shaky and wide-eyed over an angel appearing before her. Men and women through millennia (like Abraham, Hagar, and Daniel) have heard the words fear not when an angel has appeared to them. But Gabriel wasn't saying this because Mary had come unglued over his sudden appearance. Instead, he's speaking peace to her ahead of what he's about to tell her—the magnitude of the calling she's being ushered into. When I read, "Do not be afraid," I hear kindness in his voice. Hey. Mary. Look at my eyes. Breathe. It's going to be okay. Don't fear. God is with you in this.
Mary knew the story of Moses. She'd grown up learning about Tamar, Rahab, Ruth, Bathsheba, and countless others who trusted in YHWH, even through uncertain and overwhelming times. What God has done in the past, how He shows His character and faithfulness over the ages, gives us confidence in who He is and how He will work in the present. And so Mary doesn't flinch. "I am the servant of the Lord. Let it be to me according to your word." Her faith and courage, her simple yes, changed history forever.
With this yes, Mary entered a season of suffering for the Messiah, long before the Messiah would suffer for her and all humankind. She couldn't see the finish line, or even the path just ahead. And yet she trusted God enough to know that He would light her way.
What has God asked you to say yes to that feels overwhelming or scary? How have you responded? What holds you back? What gives you confidence to move forward?