A King and a Novel
A King and a Novel

Behind the Scenes with Joel
My friends, it is here! On September 7, my latest nonfiction book, Enemies and Allies: An Unforgettable Journey inside the Fast-Moving & Immensely Turbulent Modern Middle East, was released. I have been excitedly waiting for this work to get into your hands, because it is the most personal book that I have ever written. The word journey in the subtitle is very descriptive of what you will discover in the pages. Not only will you find the volatile ride that the world has taken over the last decades as relationships have been formed and broken, but you will read of my personal voyage as I've been given backstage passes to sit down with many of the players who are making the key global decisions.
With the release of Enemies and Allies, there are those who have wondered if I am leaving my novel writing behind. Absolutely not! Fiction writing is not just a part of what I do; it is a part of who I am. But there is another aspect to my makeup—the journalist side. I love to create stories and I love to report the news. I look forward each day to taking you on a fictional thrill ride, but if I didn't have an outlet to share real events like what is happening right now in Afghanistan, I would be miserable. I need to have both; it's just the way I'm made.
Thankfully, the two parts often work hand in hand. My journalism side informs my fiction writing, and my fiction writing benefits the creativity of my nonfiction works. The interconnectedness has never been greater than it is in Enemies and Allies. In fact, the book's origins come from Jordan's King Abdullah II reading one of my novels, The First Hostage. That's right, the king of a sovereign nation read one of my books—check that off my "Things I Never Thought Would Happen" list. After finishing it, he invited Lynn and me to come and visit him in his palace. That's check number two! Out of that initial visit, during which I found the king to be warm, gracious, and surprisingly funny, came the opportunity to bring a delegation of other evangelical leaders.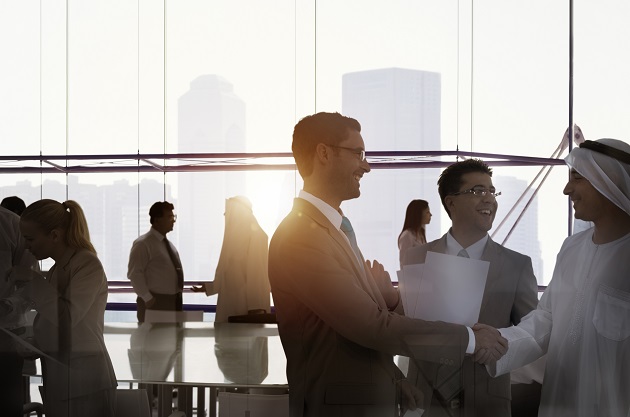 That meeting with King Abdullah II later opened doors for me to meet with other Middle East leaders like Egyptian president Abdel Fattah el-Sisi and Saudi Arabia's Crown Prince Mohammed bin Salman (MBS). But it didn't stop there. It wasn't long before I was sitting down with the leaders of the United Arab Emirates and Bahrain, President Donald Trump, Vice President Mike Pence, Secretary of State Mike Pompeo, and many others. As a result of these very unusual opportunities, I soon found myself at events and in interviews regularly being asked to tell the stories of these meetings. Enemies and Allies is my response to those requests, giving the reader a fly-on-the-wall perspective of these amazing get-togethers. And it all began with a king and a novel.
Enemies and Allies is a unique book for me in that it captures a story in which I'm actually living. I'm very happy with how it turned out and am thankful that Tyndale has been so supportive of it. I'm also hopeful that those who have not been introduced to my novels will wonder why leaders like King Abdullah and Mike Pence and Mike Pompeo and others are reading my thrillers. Good question. Maybe you need to check them out for yourself!
—Joel C. Rosenberg